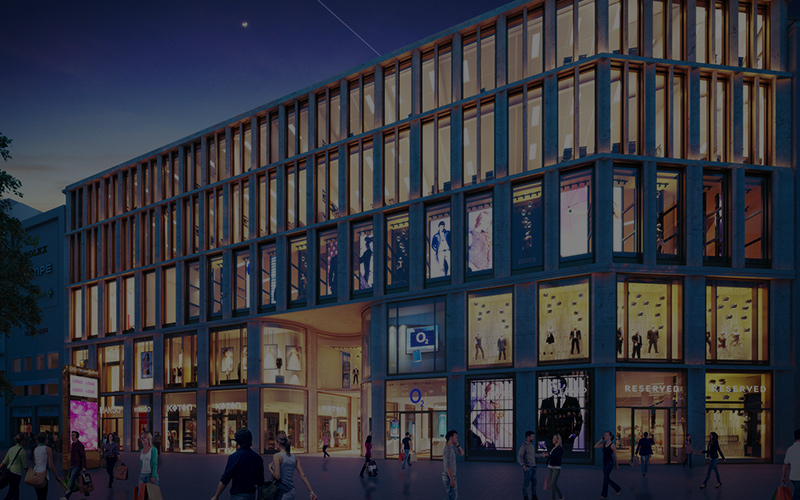 Data protection statements
Responsible
CENTRUM Holding Deutschland GmbH & Co. KG
Kaistraße 8a
40221 Düsseldorf
Telefon: 0211 3854780
Fax: 0211 38547878
E-Mail: info@centrum-group.de

Data protection commissioner
CENTRUM Projektentwicklung GmbH
Dorette Hernicke
Kaistraße 8a
40221 Düsseldorf
Telefon 0211 3854780
Fax 0211 38547878
E-Mail datenschutz@centrum-group.de

Affected information according to art. 13 U GDPR for the visit of our website www.centrum-group.de
on our website we inform you about the activity and our offer. The protection of your personal data is, of course, given the highest importance in the operation of this website.In the following statement we will inform you about how your personal data will be processed when you visit this website.
When operating the website, we cooperate with the external service providers, which we have carefully selected and obliged under data protection law to conclude a contract processing contract pursuant to Art. 28 GDPR. In the following statement, we will inform you about how your personal data is processed when you visit this website become.
Server-Logfiles
Your browser transmits access data, so-called server log files, which we process to ensure system security and protect us from attacks and errors.With those:
the time of the server request, ie the time of their visit,
the page from which you visit us (Referrer URL),
your IP address,
the host name of the accessing computer,
the operating system you use and
the type of browser you are using and the browser version you are using
sent to us.This data is needed to ensure system security, e.g. to identify and block the attacker in a hacker attack. This is in our legitimate interest (Article 6 I 1 f GDPR). We delete the data after 30 days at the latest.
Session-Cookies
No so-called session cookies are used on this website.
Vimeo
On our website you can also watch videos placed on Vimeo: These are included in our online offers, so you can watch the videos directly on our site. Supplier is Vimeo Inc., 555 West 18th Street, NY, New York 10011, USA. The integration of Vimeo plugins is "active"; this means that information is transmitted to Vimeo as soon as you surf on one of our subpages with embedded videos. If this happens, a connection with Vimeo will be established and your IP address and information as to which of our subpage you have visited, will be transmitted to Vimeo in the USA.This happens regardless of whether you have a Vimeo user account and, if so, whether you are logged in there. If you are logged in to your Vimeo account, you allow Vimeo to associate your surfing behavior directly with your personal profile. You can prevent this by logging out of your Vimeo account. Even the embedding of Vimeo plug-ins is in our legitimate corporate interest to present you with a particularly attractive offer, since Vimeo alone enables integration in particularly high quality (Art. 6 I 1 f GDPR).
For more information about privacy at Vimeo, visit https://vimeo.com/privacy.
Fonts.com
Our website uses Fonts.com, an offer of Monotype GmbH, Werner-Reimers-Strasse 2-4, 61352 Bad Homburg, www.fonts.com. This service enables us to provide you with a consistent, visually appealing visualization of our website using the related font library. This is done by loading the fonts used on this website through the browser you are using and then displaying them.
According to our information, the browser you use connects to the servers of our service provider and it receives the information that our website was called up with the IP address you used.
A uniform and visually attractive design of our website is in our predominant, legitimate interest (Article 6 I 1 f GDPR). There is neither a user analysis nor a user profile created; Your IP address will only be used for the targeted transmission of fonts.
Google Routenplaner
We provide access to the Google Route Planner via our website to help you plan your journey to us. Only if you click on this, you submit data to Google. We have no influence on this offer.
Third-party information: Google Dublin, Google Ireland Ltd., Gordon House, Barrow Street, Dublin 4, Ireland, Privacy Policy: http://www.google.de/intl/de/policies/privacy
The use is in view of the improved offer in our legitimate interest (Article 6 I 1 f GDPR), especially since you can decide with your own click whether you transfer data to Google.
Data secruity
In order to protect your personal data in the best possible way, we use SSL encryption (https standard) technical and organizational security measures, which are also adapted to the current state of art in accordance with risk.
Right of access by the data subject
So far as personal data is used that relates to you as a natural person, you have various data protection claims against us. In accordance with § 34 BDSG, Art. 15 GDPR you have the right to information about the personal data stored on you and their origin, the recipients or categories of recipients to whom data are transmitted, and the purpose of the storage.
In addition, you may be entitled to correction, deletion or restriction (of processing) of your personal data as well as to data portability in accordance with § 35 BDSG, Art. 16-20 GDPR.
In addition, you may object to the further processing of your data if we process your data on the basis of a legitimate interest (Art. 6 I 1 f GDPR); As far as we do not process your data for advertising purposes, this requires a special reason. In the event of a contradiction, we will no longer process your personal data from receipt during the subsequent examination and delete it after completion of the examination - if the objection is justified - (§ 36 BDSG, Art. 21 GDPR).
You can withdraw your consent to data processing (Art. 6 I 1 a GDPR) at any time. We will not process your personal data further and delete it, unless there is a legal permission for further processing. An objection or revocation does not affect the admissibility of data processing in the past.After all, you have the right to complain to the Data Protection Inspectorate to Art. 77 GDPR. An overview of the relevant supervisory authorities can be found on the BfDI website (https://www.bfdi.bund.de/DE/Infothek/Anschriften_Links/anschriften_links-node.html).
We fulfill your rights immediately and free of charge. Please contact us for this; our contact details can be found at the beginning of this privacy policy.
Further Information due to article 13 GDPR for the visit of our website www.centrum-group.de
Which data we collect from you and from which source these data originate:
We process personal data that we receive from you as part of our business relationship. Relevant personal data are personal details (name, address and other contact details, birthday). In addition, these may also be order data (for example payment order) or information about their financial situation (credit reform).
How and why does the collection of your data occur?:
The processing of data takes place in the address administration program for the conclusion of contracts with you and your enterprise (kind 6 I 1 b.) GDPR), for future personal contact for business purposes (kind 6 I 1 lit. f) GDPR) as well for the maintenance of personal business relations (Art. 6 I 1 lit. f) GDPR or in the bank program, in order to: For example, you can make payments to you.
Transmission to third parties:
Within the Group, those employees receive their data, which they need to fulfill our contractual and legal obligations. Our processors may also receive data for these purposes. These contractual partners are then obliged to comply with data protection law in accordance with Art. 28 GDPR, carefully selected and monitored accordingly.
With regard to the transfer of data to recipients outside the Group, it must first be noted that we are bound to secrecy about all business contacts, facts and valuations from which we gain knowledge. Information about you, we may only pass on, if required by law or you have consented. We strictly adhere to that.
A transfer of data to third countries (states outside the European Economic Area) only takes place, if this is necessary for the execution of their orders, by law or if you have given us their consent. In these cases, appropriate guarantees under Art. 44 et seq. GDPR are always taken to ensure an adequate level of data protection in the destination country.
How long we process your data:
We process and store your personal information as long as it is necessary for the performance of our contractual obligations. If this is no longer necessary, it will be deleted unless its temporary processing is necessary for the following purposes:
Preservation of evidence in the context of statutory limitation or legal disputes
fulfillment of commercial and tax retention requirements
fulfillment of other statutory retention requirements
Your rights
As far as we process your personal data, you have various data protection claims against us. You have the right,
to request information about the data stored on your person and their origin, the purpose of processing and the recipients or categories of recipients of the data (Art. 15 GDPR, Art. 34 BDSG),
to demand from us correction, blocking or deletion of your personal data under certain conditions (Art. 16 - 18 GDPR, Art. 35 BDSG),
require the transfer of your data to another responsible body (Art. 20 GDPR) as well as
to complain to us or the competent data protection authority about data processing (Art. 77 GDPR).
You can also object to the further processing of your data if we process your data on the basis of a legitimate interest (Article 6 (1) sentence 1 f) GDPR). As far as we do not process your data for advertising purposes, this requires a reason that arises from your particular situation. In the case of a contradiction, we will no longer process your personal data to which the opposition relates from the time of the subsequent examination and delete it after the examination has been completed - if the objection is justified (§ 36 BDSG, Art. 21 GDPR).
Any consent given to us for data processing (Article 6 (1) sentence 1 a) GDPR)) can be withdrawn at any time; We will not process your personal data then, unless there is a legal permission for this.
A justified objection and revocation have no influence on already completed data processing operations.
We fulfill all rights to you free of charge and without delay. For this and all other questions, please contact us directly at the contact details provided above or contact our data protection officer.